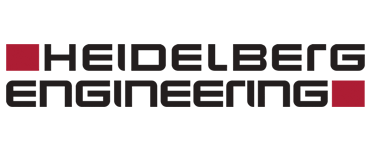 Since the beginning of April 2020, the Heidelberg Engineering Academy has hosted eight educational webinars covering a wide range of topics including the impact of COVID-19 on ophthalmology services, using OCT to evaluate patients for retinal pathologies and glaucoma, and the latest ophthalmic research studies. Some webinars are CET-accredited, and Heidelberg Engineering have so far submitted more than 2150 CET points to the General Optical Council.
The most recent webinars, "OCT in Primary Care: What, When, How?" and "Imaging in Ophthalmic Research 2020" attracted over 1100 participants from a range of disciplines including ophthalmologists, ophthalmic photographers, and optometrists.
The CET-accredited webinar "OCT in Primary Care: What, When, How?" was mainly aimed at optometrists and dispensing opticians and attracted an audience of more than 870 participants. It featured Mark Holloway, optometrist, from Thomas & Holloway Opticians in Dronfield and Dr. Fahd Quhill, consultant ophthalmologist from The Royal Hallamshire Hospital in Sheffield. Mr. Holloway showed how he identifies commonly occurring retinal pathologies and makes decisions about patient management using OCT in the primary care setting, whilst Dr. Quhill provided advice about referral urgency into secondary care and treatment." The case studies discussed included dry AMD, wet AMD, vitelliform maculopathy, pigment epithelial detachment (PED), epiretinal membrane (ERM), and vitreomacular traction (VMT).
The "Imaging in Research 2020" webinar took place two weeks later. "The cancellation of ophthalmic congresses worldwide leaves a chasm in communication between eye care professionals in 2020", said Emily Malbon, Head of UK Marketing and Education, Heidelberg Engineering. "With webinars such as this one, Heidelberg Engineering aims to provide a platform for clinicians to present their latest research to the ophthalmic community". The webinar "Imaging in Ophthalmic Research 2020" showcased the results of three research projects in which clinicians are using a SPECTRALIS® device with novel diagnostic imaging or analysis functionality. It was chaired by Dr. Konstantinos Balaskas, consultant ophthalmologist, Moorfields Eye Hospital, and featured presentations by Dr. Giovanni Montesano, Honorary Research Fellow, City University of London, Dr. Tjebo Heeren, Fellow, University College London, and Professor Francesca Cordeiro, Professor of Ophthalmology, Imperial College London. Topics included the structure-function relationship in intermediate AMD, the role of retinal imaging in defining the disease end stage of macular telangiectasia type 2, and DARC AI technology as a biomarker for glaucoma.
FURTHER INFORMATION:
All webinars are recorded and available to watch again at: 
www.he-academy.com/courses