Eye News has launched its new ophthalmology podcast, in conjunction with The University of Edinburgh.
Entitled Eye Views, the podcast covers a range of conversations on seeing and sight loss. Created, scripted, directed and hosted by Professor Baljean Dhillon, Eye Views will feature a wide range of topics with a diverse line-up of guests.
Eye Views is available to watch on the Eye News YouTube channel, and to listen and download via Spotify.
Designed to be an educational, insightful and humorous look at the world of ophthalmology and eyecare. Ranging from mishaps, technological developments, industry news and the inside line all the way from surgery to the cafeteria, Eye Views is a major step forward in the increasingly multimedia approach to ophthalmology publishing, aiming to create an interactive, varied forum for the sharing and engaging of ideas and guidance. 
Click the images below to view the videos
EP01 The Three Amigos Part 1: Intro
EP02 The Three Amigos Part 2: AMD, EPR systems and the emergence of AI
EP03 The Patient Perspective, Part 1
EP04 The Patient Perspective, Part 2 
 EP05 Fiona Buckmaster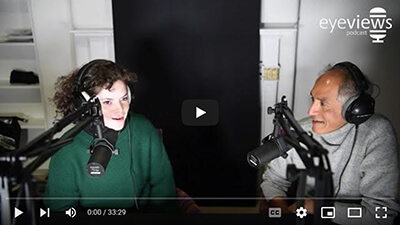 Follow Eye News across social media for updates on episodes, clips, and future multi-platform releases:

Twitter: @EyeNewsMag
Instagram: @eyenewsmag
LinkedIn: /company/eyenews
YouTube: @eyenewsmag
TikTok: @eye_news_magazine

If any of our industry colleagues would like to get involved with the Eye News podcasts, please email us.