Aura Air, the world's first air filtration and disinfection system proven by clinical trial to remove 99.7% of COVID-19 aerosol droplets, has entered the UK market to provide clean, safe air and help businesses recover following the global pandemic.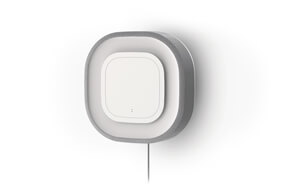 Tested on the frontlines in the battle against COVID-19, and verified by British social enterprise startup Adjutor during trials in UK optician consultation rooms, the ground breaking Aura Air is helping businesses and the public by dramatically reducing the chance of catching COVID-19 and other viruses through airborne transmission.
Unlike other air filters, Aura Air uses six methods of sterilisation to destroy coronavirus particles and provide clean, healthy air for practitioners and patients.
Controlled and monitored by a user-friendly app, the smart, compact unit costs just £500 to buy, or £33p/m to rent, from Adjutor.
FURTHER INFORMATION:
Adjutor
T: +44(0)1243 278189
E: jonathan@adjutor.uk
W: www.adjutor.uk