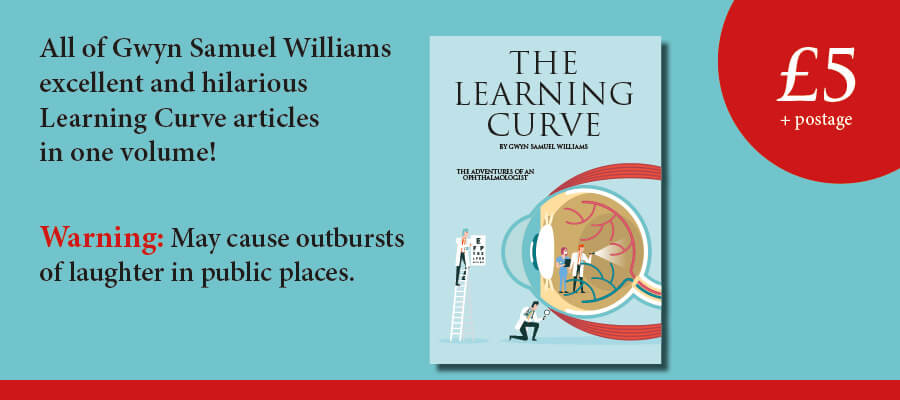 About the author: Gwyn Samuel Williams
I am a medical retina consultant working at Singleton Hospital, Swansea. I was born in a nearby town called Neath and attended Ysgol Gyfun Ystalyfera before studying medicine at King's College in London. Intending to be a surgeon I did basic surgical training at New Cross Hospital, Wolverhampton, after completing house jobs at Kings College Hospital and Conquest Hospital, Hastings. After three years working in the Midlands I returned to Wales to train in ophthalmology, and after completing a medical retina fellowship at Moorfields (the Big House) I started work as a consultant ophthalmic surgeon in Swansea in July 2016. I am also an honorary senior lecturer at Swansea University and the Regional Educational Advisor for Wales and think myself lucky each and every day that I have chosen ophthalmology as a career.
I have two sons that I am (currently unsuccessfully) attempting to persuade to enter medicine. My partner is an ophthalmologist working at the University Hospital of Wales and we live in Brynmill, Swansea. I enjoy reading and writing, with a novel and two textbooks to my name, though my major love is hiking. I intend to complete the Wales Coast Path and have almost achieved this, having walked many sections over the past few years when time allowed.
At the time of writing I am the Plaid Cymru candidate for Swansea West Constituency and have a lifelong passion for advancing the cause of Welsh self-determination.
'the adventures of an ophthalmologist'
I started writing the Learning Curve when I was an ST4 trainee at the Royal Glamorgan Hospital. I had written quite a lot of pieces over the years before then for a magazine called BMA News, generally about the strange world of being a junior doctor and the weirdly privileged position we hold in the peculiar ecosystem of the hospital. We see people at their most vulnerable and patients we have never met before will willingly let us cut into their bodies or inject substances into their eyeballs that they pretend to understand about but in reality do not, is testament to this. Very few people read BMA News though and that flimsy magazine is usually discarded, along with the BMJ. I also used to write articles for Hospital Doctor but not long after I started the magazine went bankrupt, though I like to think the two events were not related. At the time I worked with a genial South Indian glaucoma specialist who was a cataract surgery legend in South Wales, and even though he was very stressful to work with if you could follow his surgical training regime you ended up a very competent, safe surgeon. One day as I was struggling to follow his instructions (even the patient had started asking what 'primary position' actually meant) he suddenly sighed and said 'it's all a learning curve I guess', before laughing. When Diana Spencer from Eye News then asked what I wanted to call the new column I thought of those words, as the whole of life is one long learning curve. And the day we stop learning is the day we die. Or retire.
It has been enjoyable to write about day to day triumphs and tribulations in the world of ophthalmology and I have humbled by how many people tell me they like reading my rants. I have had many emails over the years agreeing with me, disagreeing with me, or correcting some grammatical or spelling mistake that I've made. The editors of Eye News have been very good to me, giving me licence to write things they clearly disagree with and only very rarely censoring my pieces. In a way it is a badge of honour to have been censored though. If I am correct it is a single paragraph in an article about complaining patients in which I had described in some detail the immolation of annoying patients using the Daily Mail as a fuel source, and the piece about drug reps that had to be toned down two hundred times, were the only things that resulted in any significant censoring. In fact it is because of Eye News that I have developed a love of Tunnocks Teacakes, as they used to give these out for free at their stand in Congress. I would encourage any ophthalmologist to consider writing for Eye News; the articles are more likely to be accepted than with the stuffier journals and due to their wide distribution your friends and colleagues are more likely to read them. I hope you like this collection of articles and I am very grateful indeed to the Eye News team for putting them all together like this.
"F in ophthalmology: A few years back, before Gwyn was famous, two long-suffering co-editors were holed up in Gayfield Square, Edinburgh – the nerve centre of the now famous Eye News magazine. The editorial meeting was tense, prolonged and since Tariq had eaten the last sandwich two hours earlier, we were all a tad hangry. Editorial Coordinator Diana said "We need someone young, gifted and …" Account Manager Linda added "Welsh". We searched high and low for this new writing talent and a literary star was born thus. Gwyn is our poetic ELF – Edgy, Lyrical and Funny. So if you want more F in ophthalmology pick up this slim volume. It will make you smile."
Professor Baljean Dhillon and Professor Tariq Aslam, Editors, Eye News
Order your copy of 'The Learning Curve' 
To purchase a copy of Gwyn Samuel Williams 'The Learning Curve' please complete the details below. You can now pay by Paypal and other payment cards.
If you would like to order more than 1 copy please email Justin Chater justin@pinpoint-scotland.com