A new online Ophthalmic Nurse Triage Course has been developed by Stanley Keys, an experienced hospital optometrist based in Inverness and developer of Optometry Evolution (an educational website for eyecare professionals.)
Effective triaging of acute eye conditions is a crucial aspect of eye casualty clinics across our eye departments. It is vital for best patient care that those who are in most urgent need of investigation and treatment can be seen without delay.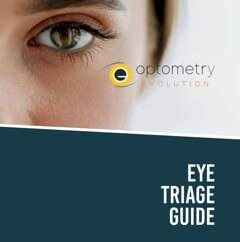 The ability to triage new acute referrals is an important clinical skill, requiring a good working knowledge of the most common urgent conditions, a clear strategy for prioritising patients and effective communication.
The COVID pandemic has further highlighted the importance of accurate triaging so that unnecessary hospital visits can be minimised and services kept running.
This course is delivered over two interactive evening online tutorials covering the key aspects of effective triage. All delegates receive a copy of the 32 page Eye Triage Guide along with 3hrs of CPD. Dates are now available throughout the next three months.
For more information visit: