BCPB's new Chairman Mr Michael Burdon FRCOphth FRCP is a consultant ophthalmologist at Queen Elizabeth Hospital Birmingham with a specialist interest in neuro-ophthalmology. He trained in medicine in London, and then in ophthalmology at Oxford, Birmingham, Brisbane, the National Hospital for Neurology & Neurosurgery and Moorfields Eye Hospital.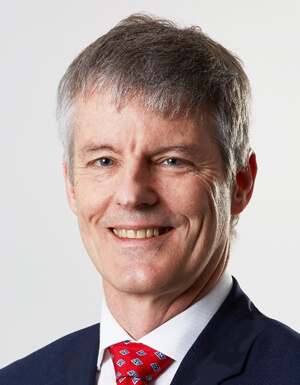 His decision to train as an eye surgeon was influenced by observing cataract surgery at Kisiizi Hospital Uganda. He has maintained a considerable interest in international ophthalmology and in 2007, with the support of the International Centre for Eye Health (ICEH), he established a formal link between his eye department and that of Kilimanjaro Christian Medical Centre Tanzania which has helped to train Tanzanian ophthalmologists, develop sub-specialty ophthalmology services, and support clinical research.  He has served on several research committees and his name appears on many research papers.
Mr Burdon has contributed to the education of doctors, medical students, nurses, orthoptists, and optometrists, has supervised neuro-ophthalmology Fellows and Higher Degree students, and examined nationally and internationally.  For ten years he examined for the Royal College of Ophthalmologists Final Fellowship, and has contributed to the writing of questions and setting of examinations.   He has lectured and organised seminars at many regional, national, and international meetings, and co-written several books and book chapters.
He has served at the Royal College of Ophthalmologists for 10 years, most recently as President from 2017 to 2020. He was instrumental in establishing the College's link with the College of Ophthalmology of East, Central and Southern Africa, (COECSA)  and has supported this work by delivering training in examinations, research development, and giving talks. He continues to work with ICEH to support the international Links programme.
He is a former Chairman of the National Institute for Health & Care Excellence cataract guideline development committee, and has worked with a number of sight-related charities advocating for better access to eye services and support for visually impaired people.
His hobbies include cycling, running, electronics, and French.
For more information about the charity, visit www.bcpb.org
Charity Registration Number 270941